that's what tg said when i showed him the awesome totoro hat and soot-sprite bootees that i got from loudxmouse for the
craftster
miyazaki swap! super cool and super cute!!
can't wait to have a real baby to put in them! in the meantime, they fit my old bear pretty well... mum made "poony" for me when i was an infant, and he's still going strong, waiting for the offspring to try to chew off his ears: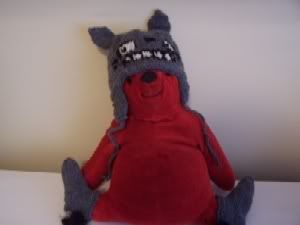 and here's a close-up so you can get a better look at the hat. he's awesome!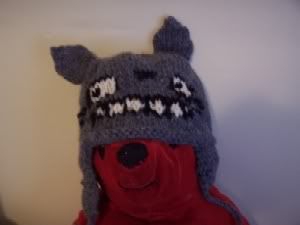 whee! i'm so happy! in other good mail news, two of the other things i was waiting for in the mail - both of wish i spent cold hard cash on, so i was getting antsy - also arrived in the mail. we're down to a missing-mail count of only one letter. a good thing too, since i bought some sari yarn on monday, and as i was paypal-ing the seller, i started to think: "am i crazy? my mail never arrives! what the hell am i doing!" but now i am at peace again.
now, off to post pics on craftster...