here's a filmcraft tutorial for you. remember when i was posting about the
tweed jacket
and i said i couldn't post my sketches because i was having scanner trouble? well, i just said toss the scanner, i'll take a photo of the sketches instead. so here they are!
these first two show how i changed the seaming in the front and back. the green lines show where the original seams were, which i ripped open, and the red lines show the new seams. i did a fair amount of basting and trying-on and adjusting and basting again before i actually cut anything or sat down at the machine. here's the front: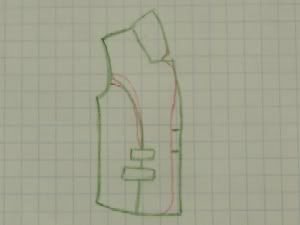 you can see how i made the side-front seam more of a girl-shaped princess seam, and re-cut the front lapels. here's the back. notice the shoulder seams especially: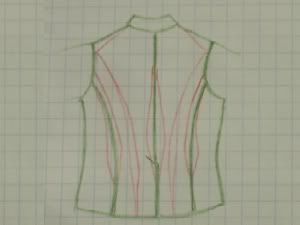 i moved the shoulder seams back for a more edwardian-esque sloping shoulder. the way to do it: first, remove the sleeves. next, dig out the shoulder pads. this is trickier than it sounds: on a properly tailored man's jacket, there are layers of horsehair canvas and cotton batting and muslin, all shaped and stitched together by hand. you have to be very careful to just take out the shoulder padding, and not interfere with the interfacing that gives the front of the jacket its shape. check to make sure you haven't cut any crucial threads which are holding together the front interfacing, and hand-stitch anything that looks shaky. taking apart men's jackets has given me a whole new level of respect for tailors.
once all of that has been taken out, you can split the shoulder seam and pull the front side further to the back, like this: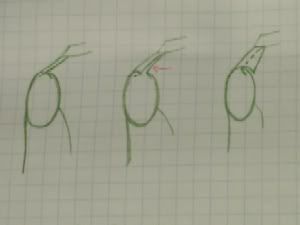 you can see how the front overlaps the back. that seam needs to be hand-stitched. moving the shoulder seam tightens up the armscye, making the whole jacket more tailored for someone smaller. because you only split the shoulder seam, the collar remains untouched - one less thing to deal with.
the sleeves were easy after all of that - just turn them inside out, and taper the seams. since i wanted the sleeves gathered anyway, there was no rocket science involved - i hate fitting set-in sleeves normally, but gathering to take out the extra fullness makes it super easy.
and that concludes our lesson for today!