one year ago today, my husband and i got married. like the die-hard diy-er that i am, i decided to make my own wedding gown, and bake our cake myself.
never do this.
but i digress. how does this all relate to filmcraft? well, my wedding gown was a replica of a gown worn by
silent film star
norma talmadge
. i was looking for ideas when i came across this gorgeous gown: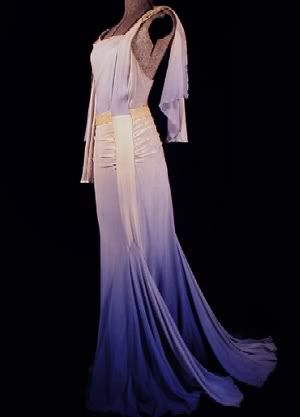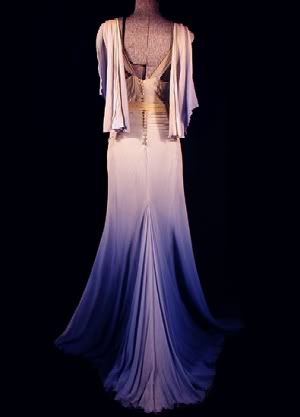 it was on a vintagewear site called
the frock
. it was selling for over two grand, and i will bet that norma talmadge was a lot smaller than i am. so i decided to make my own, all in white of course. and since one of the reasons i wanted to make my own was that i balked at the idea of dropping a huge amount of money on a polyester dress (and just about all wedding gowns under $2000 are polyester), and since polyester doesn't drape nicely and draing is a crucial component of the gown, i decided to make it all out of silk.
here are some of my sketches when i was working out the pattern: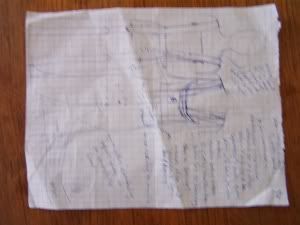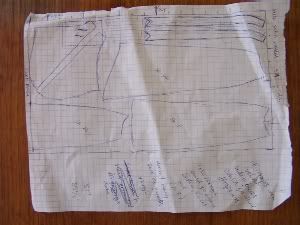 it's actually a pretty simple design if you look at it: a front panel, side panels, and two panels in the back; shoulder straps (i considered making these out of velvet at one point) that continue down the front to just above the knee, a simple skirt with three inset panels for fullness, and shoulder drapes.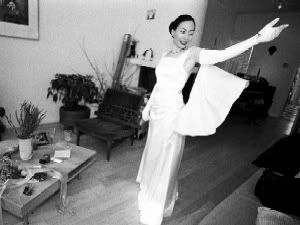 all easier said than done, of course. especially when working in silk charmeuse.
i decided to start with the interfacing. i cut my pattern out of cotton muslin, leaving huge seam allowances in case i needed to do any alterations, and basted it together. after trying it on a million times, and tweaking the fit endlessly, i was finally confident that i had what i wanted.
i then took apart the muslin model and used it as a pattern to cut out the dress fabric and the lining (which was silk habotai). but before getting to the cutting stage, i pressed the fabrics very carefully using easy-on spray starch to lessen the slip-slidy-ness, and being careful to keep the grain straight. the drapiness that makes the final product gorgeous also makes it a headache to work with.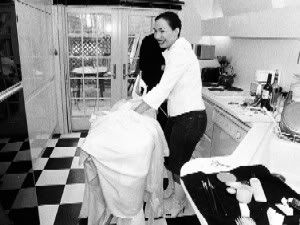 i even basted the fabrics and muslin together to make sure nothing slipped while i was cutting, and did the cutting at my friend gayle's house, since she has a proper cutting board and good scissors.
i sound baste-crazy, don't i? i did a lot of basting on the liger tote as well. i usedn't to ever baste, when i was young and impatient to get stuff done instantaneously. i didn't really save any time though, as i ended up spending a lot more time ripping things out! and things didn't generally look as nice when finished. "more haste, less speed" as my mother would say.
one aspect that took a longish time and a lot of basting was the back closure. i hate the fake buttons you see on a lot of weeding gowns, so i decided to have actual buttons with actual loops that would actually button up. for stability, i had a hidden zipper that was attached only to the muslin interfacing and lining. this meant the buttons and outer charmeuse shell of the dress weren't subjected to any undue strain in the waist area, because the muslin was doing all the work. if you look at the inner workings of older dresses, you'll notice they often have a separate internal waistband for this reason - it's one of those areas where there is a lot of body movement and thus strain, and more delicate fabrics won't stand up without extra hidden support.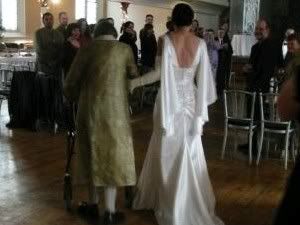 wow, this post is getting really long.
the final really time-consuming aspect of the dress was the hemming - all rolled by hand to be as invisible as possible. no mean feat with fabric as soft and frayable as silk. my gown didn't have as huge a hem as some do - i imagine anything with a hoop or train would take forever. i was up til four o'clock in the morning working on it. i will confess that part of the hem was only basted when i went down the aisle. i don't think anyone noticed though: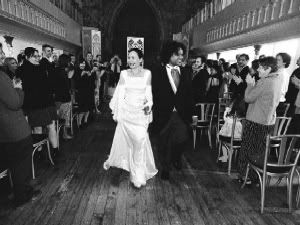 so was all that work worth it for a few hours of old hollywood glamour? you betcha! and i figure if i ever get nominated for an oscar, i'll wear it again.